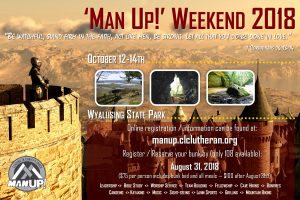 These posters are from our 2017 Retreat which is over. Check back soon for a new poster for our 2018 Retreat!
This 22×17 poster can be printed and used to announce our 2017 retreat.  You may also use the half page insert below for your church bulletin.  Please feel free to distribute either freely!
We have also prepared a summary paragraph that can be used to announce the retreat in your church bulletin:
"MAN UP" WEEKEND – The weekend is intended to offer strength and encouragement for men 18 and older for their personal faith, family, and fellowship at church. The weekend will include Bible Study, Fellowship, Leadership Training, Team and Relationship Building and Worship, as well as many awesome outdoor activities. The retreat will be held October 12-14, 2018 at beautiful Wyalusing State Park near Prairie du Chien, WI about an hour south of La Crosse. You can also find out more information, see pictures of the park, and register for the retreat online at www.manup.clclutheran.org. The cost is only $100 for the weekend and includes lodging, meals, and activities. Registration deadline is September 20, 2018.  
Men, don't miss out on this strengthening opportunity to be encouraged in your God-given roles! If you have any questions please speak to your pastor or contact Nathanael Mayhew.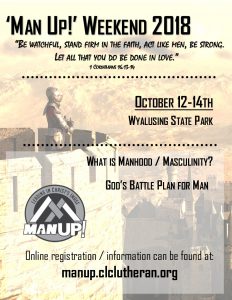 January 31 2016 01:52 am